■ Michelle Mai
EAG 2018 has come to its successful conclusion on January 18, Bandai Namco Amusement Europe Ltd (BNAE) at stand 620 showcased the different divisions of the company, including Games, Prizes, Virtual Reality, Management Solutions, Operations and Entertainment Projects, as well as welcoming international sales staff, distribution and manufacturing partners, becoming one of the attractive booths at the show. Let's take a look back at BNAE's display in EAG 2018.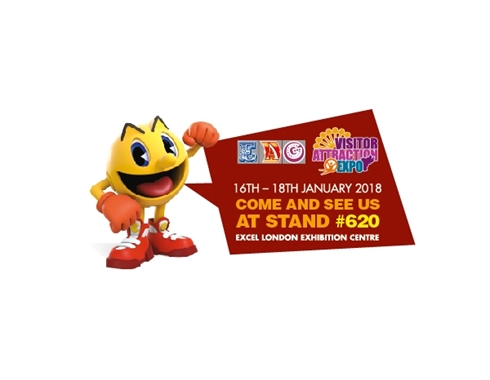 BNAE once again presented one of the largest booths at this year's EAG.
All new products made their debuts
Sales and Commercial Director of BNAE, James Anderson said, "EAG provides the opportunity for us to set our stall for 2018. We have tested a number of the new releases seen at the IAAPA show, which we felt would be ideal for our markets and these can be found on our stand, alongside some brand-new developments, which we are very excited to show for the first time." Site testing has already begun on Spinner Frenzy, new from Adrenaline, which develops the global 'spinner' craze into a skill redemption game, where players must find the right speed to spin in order to win tickets, if the player gets the perfect spin speed they win the bonus tickets. Also from Adrenaline was a new centrepiece game featuring the irrepressible Rabbids characters. Rabbids Hollywood is a four-player video game title with a massive 120-inch screen. Players must try to stem the invasion of the crazy creatures in three different movie sets using a number of fun methods, in a fast and furious tin-can alley shooting style.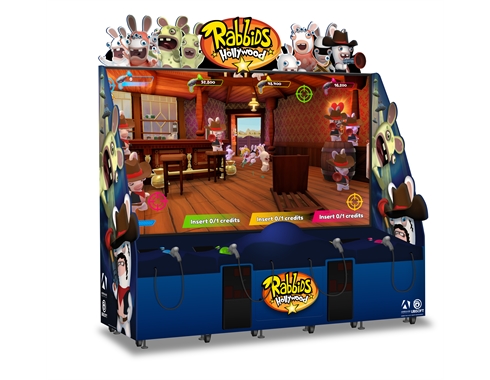 Rabbids Hollywood and Spinner Frenzy from Adrenaline Amusements.
From Raw Thrills, BNAE showed Injustice Arcade, which features the characters from the recent Justice League film. This game is licensed by Warner Brothers and is a classic button style 3 vs 3 tag team fighting game, with a twist as it offers a collectible card after every play featuring one of the characters in the game. The player can then use the card the next time they play the game and the character will appear in the game. Also from Raw Thrills was an exciting new snowboarding game, X Games Snowboarders, which has continued the success of SnoCross. Featuring a highly realistic snowboarding experience in a stand-up cabinet, which even includes wind effects and five action-packed downhill tracks for players to try. SpongeBob Pineapple Arcade from Andamiro had a massive following and was joined by SpongeBob Soccer. The attractive branded cabinet features a large lever topped with a football. Players must flip the lever at the right time so that SpongeBob can kick the ball into the goal – past the arms of Squidward who is goalie.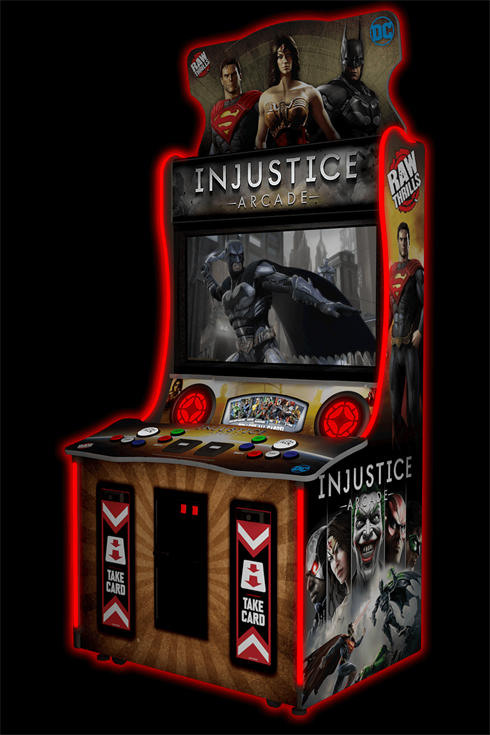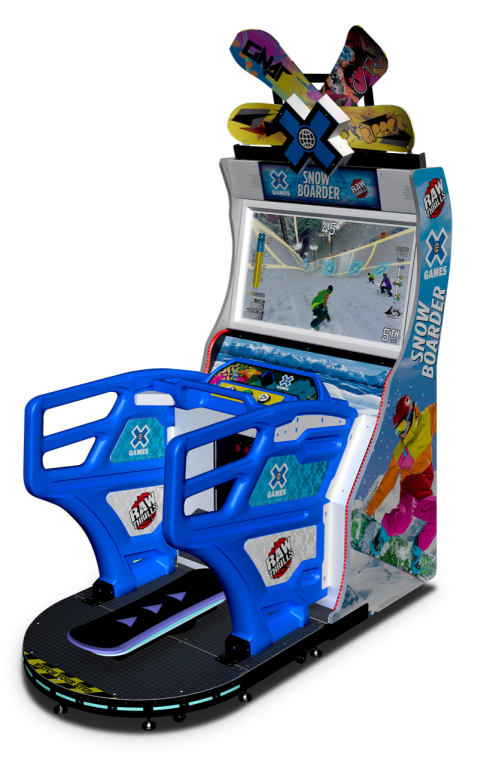 Injustice Arcade and X Games Snowboarders from Raw Thrills.
Visitors to EAG also visited the Triotech Typhoon simulator ride, which has became the top coin-op ride of its kind on the market involving motion, win and high-quality movies, making it an arcade must-have. Also on show was the Apple Scene Machine Version 2: which embraces green screen technology to deliver an interactive photo booth experience like never before. Virtual Reality also took a leading role on the BNAE stand this year with its own section of the stand. The AiSolve WePlayVR attraction is available with the Mayan Adventure Software and also showed the first update software called Alien Adventure. "The reaction to WePlayVR at IAAPA was off the scale – we had thousands of people play on it during the show with queues throughout, and are still following up and finalizing the sales leads," said Matthew Bradley, VR Project Manager at Bandai Namco Amusement Europe Ltd.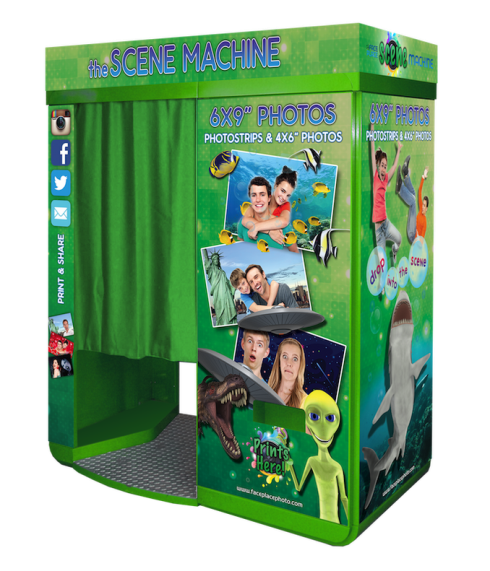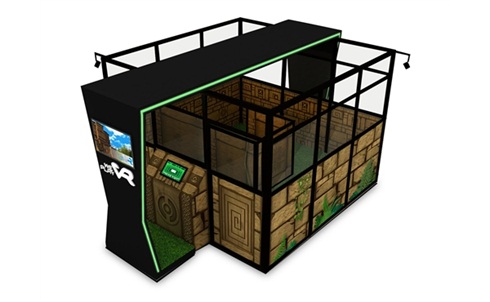 Triotech Typhoon simulation ride, scene Machine Version 2 photo booth and WePlayVR.
Eye-catching classics
Prize and plush continues to grow in strength for BNAE and the market-leading DC Comics range is expanding with a new 'Villain Mix' which is due for release in February. "Everyone loves the villains and so we have created our own special mix, which sat alongside the popular Justice League and Super Girls character mixes," said Darrell Simmonds, EMEA Sales Manager. There were also some new My Little Pony characters based on the stars of the movie and future TV series – these have complemented the existing range of ponies and included a completely new pony. "Big news for us on the plush side were the range of Early Man characters which we had at the show," added Darrell. "Early Man is the latest Aardman movie, which is due for release on the 26th January in the UK. Publicity is already everywhere, with high profile advertising tie-ups over the festive season and a massive marketing push. This is the licence that everyone is talking about."


BNAE launched the special mix - "Villain Mix" plush.
Other highlights included Scooby Doo – an evergreen classic and a new raft of desirable electrical goods with high perceived player value, plus new gift lines featuring DC Comics, My Little Pony, PAC-MAN, Harry Potter, Call of Duty and more. Cashless and loyalty card systems from leading global supplier Embed are available exclusively in the UK and Ireland from Bandai Namco Management Solutions. The team was on hand to discuss the many benefits of going cashless with customers on stand 620. In addition, Management Solutions supply the market-leading Deltronic ticket eaters. We believe that BNAE will develop and launch more new products by virtue of its strength and reputation, and the industry will continue to see lots of BANE's thrilling creative products.

※ The article is published in the GTI Magazine's Jan.&Feb. combined issue No. 161 in Jan. 2018