On February 1, the three-day ATRAX Exhibition was grandly opened at Istanbul Expo Center, Turkey. This year's show attracted near 200 exhibitors from Turkey, Germany, France, Mainland China, Taiwan and other nations and state, those exhibitors from China were Yuehua Token, Movie Power, DreamFuns, Zhejiang Nannan, Zigong Hualong and us, GTI. Over 9,000 visitors from the fields of amusement parks, theme parks, FECs, water parks, carnivals, attractions, museums and aquariums visited the show. The show gathered a bunch of professionals within amusement industry, creating more business opportunities for stakeholders and making amusement industry closer to the international stage.
Business Gathering Highlights Marketability
ATRAX - The Amusement-Attraction, Park-Recreation Industry and Services Exhibition, is the first and only specialized international event of Turkey and neighboring countries and one of the way to enter Turkey's amusement industry. It is known that, the development of amusement industry in Turkey has been on the rise for successive 11 years. And with the update and reform of the children parks and sports fields and the higher development of theme parks, shopping malls and other entertainment venues, the future of local amusement industry is promising.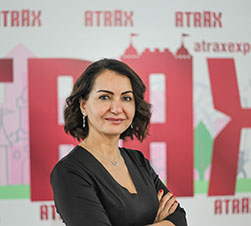 Nergis Aslan, General Manager of Tureks Uluslararası Fuarcılık made a comment: "We came together one more time at ATRAX Exhibition, the international summit of the Attraction-Events, Parks-Recreation Industry in Turkey. We introduced the latest innovations and services in the sector in the world to mainly municipalities as well as to shopping malls, hotels, housing project companies, corporations, organizers and investors. Our main goal is to be able to respond to all needs of the projects mainly in Turkey and its surrounding region and to create social and economic value by contributing to the efforts for developing more projects. We are aware that Turkey has a major geographical advantage due to being located at the crossroads for target markets in Europe, Middle East, Africa and Asia. Due to this advantage she has, we believe that Turkey is an ideal candidate to become the main hub for the region's attraction industry. And we strive to realize this approach of ours by adding novelties and enhancements to the exhibition every year."
Continue to Guide the Sector with its Conferences
This year ATRAX offered a new competition titled "University Special Section" related to "Improving Functionality of and Enhancing Municipal Parks" whereby it rewarded the best ideas offered by the universities and shared these ideas with sector's representatives via the dedicated conference. The project was organized by Tureks Uluslararası Fuarcılık in cooperation with REKÇAD (Recreation Studies and Research Association) with the goal of building the quality of life of the future and creating value social-cultural-touristic-economic and educational sense. The project which aims to support and share with all stakeholders, municipal park projects which support the brandization and marketing efforts of cities and other right projects that would shape the future of cities contributes to the efforts for providing higher quality products and services in the recreation and events industry by bringing together theory and practice on the same platform. The project which comprises recreation, sports sciences, communication, landscape architecture, architecture and city planning departments, helps universities meet with manufacturers, investors, event managers and service buyers (such as municipalities, hotels, shopping malls, companies etc.) by providing coordination among different disciplines. This project which we believe will make an important contribution to both the sector and ATRAX Exhibition, will be implemented with a larger scope in the coming year.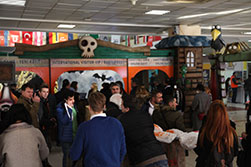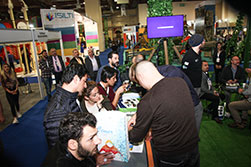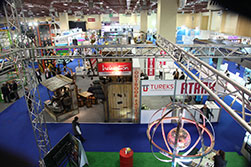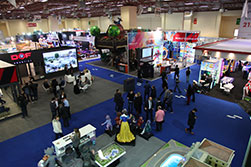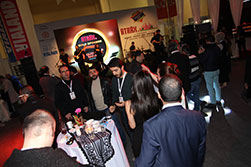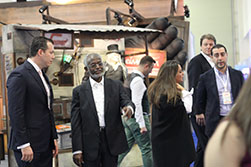 The conference which was organized for the third time as part of ATRAX this year and sponsored by Polin Waterparks and Vialand for the third time, met with the sector under the title of "We're talking Fun Business". Our priority with the conference which brought together, sector's leaders, academicians, society presidents, directors of organizations and government departments and universities, was to provide an evaluation of the sector with all its stakeholders and to encourage new ideas. Thus, at this year's conference sessions, we aimed to encourage sharing of "inspiring ideas" as we provided an overview of the sector in Turkey and the world. The conference featured two main sessions titled "Park Talks" and "University Special - Improving Functionality of and Enhancing Municipal Parks". At the "Park Talks" section of the first session, our respectable speakers shared with us the latest novelties, global trends and the economic, social and cultural values that park-recreation areas add to urban life and also introduced novel ideas. In the second session, under the topic of "Best Ideas Presented for Improving Functionality of and Enhancing Municipal Parks", Izmir High Technology Institute, Anadolu University and Nisantasi University which were ranked among the top three, shared their novel ideas via their students. The presentations which featured very innovative ideas received extremely positive feedback from the audience. We will continue to provide guidance to the sector with the conferences that we'll be organizing as part of ATRAX next tear as well.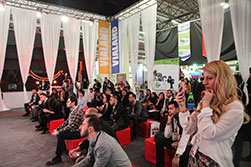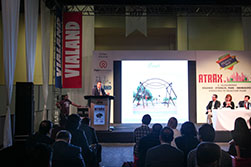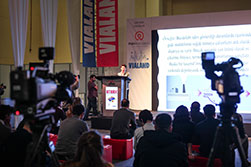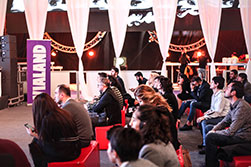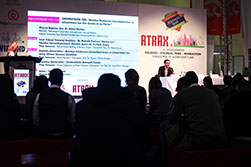 ATRAX Gala Night and Shining Star Awards Ceremony was very Vibrant Once Again This Year
The winners of "Shining Star Attraction, Events and Recreation Awards 2018" which is organized as part of ATRAX Exhibition and is sponsored by Istanbul Aquarium Complex which comprises Crowne Plaza Florya, İstanbul Aquarium and Aqua Florya Shopping Mall were announced at ATRAX Gala Night held at Crowne Plaza Florya on the night of February 2nd, 2018. At the competition which featured a total of 116 nominees in 15 categories, 22 awards were presented. Winners were selected objectively by a jury of 19 experts comprising professionals of the sector, academicians and society presidents. The night where unique dance shows of Anadolu Atesi, the fun songs of Istanbul Girls Orchestra and amazing performances of Kabile added spice and zest to event, was held in the warm hospitality of Crowne Plaza Florya. We are more than happy to have received positive feedback and appreciation from our guests regarding the night. We hope to experience the same great excitement with you next year as well.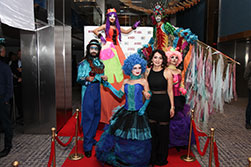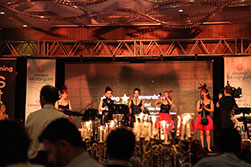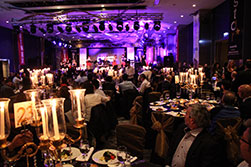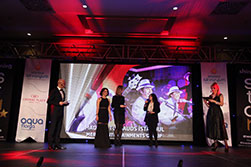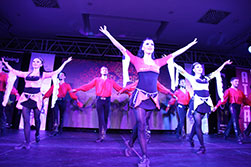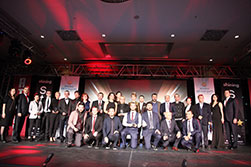 In order to share the latest information and trend of Asia's amusement industry with global practioners, GTI team set its booth #B670 on sited, where GTI team invited global buyers and exhibitors to GTI Taipei Expo, GTI Guangzhou Expo and GTI Kuala Lumpur Expo. We GTI sincerely hoped that, with our assistance, both buyers and exhibitors could enter the booming Asian market, find out the green channel and the best platform to specified market, position its business direction and gain mare energetic business opportunities. Hope to see you next year!
WINNERS OF SHINING STAR ATTRACTION, EVENTS AND RECREATION AWARDS 2018

Award for Best Themed Outdoor Attraction Center

Narven Termal Kasaba / Narven Adventure Park

Award for Best Themed Indoor Attraction Center

İstanbul Aquarium / İstanbul Akvaryum Turizm Tic. Ltd.Şti.
Merlin Entertainments Group / Madame Tussauds – Istanbul

Award for Best Municipal Park

Gaziantep Metropolitan Municipality / Fıstık Park
Küçükçekmece Municipality / Selçuklu Adventure Park

Award for Best Museum and Historic Site

Şanlıurfa Museum General Directorate / Şanlıurfa Museum of Archeology

Award for Best Water Park

İzmit Municipality / Pişman Çocuk Aquapark

Award for Best Themed Residential Project

Sinpaş / Altınoran

Starred Project Award

Bolu Municipality / Masal Park
Gebze Municipality / Eskihisar Adventure and Action Park

Entrepreneur of the Year Award

Playmaker Sports & Entertainment / Magna Apex-Playground

Best Festival Award

Eğirdir Municipality / Eğirdir Classical Music Festival
DSM Group / İstanbul Coffee Festival

Best Corporate Event

Bayraklı Municipality / 29 Ekim Atatürk Portre

Best Sports Event

Çeşme Municipality / Gran Fonda Çeşme
Playmaker Sports & Entertainment & Erciyes A.Ş / Fıs Snowboard World Cup Final

Best Shopping Mall Event

Mavibahçe Shopping and Social Center / İzmir Salsa Cup

Best Campus Event

Boğaziçi University / Sports Fest

Best Event Venue

Lüleburgaz Municipality / Lüleburgaz Yıldızları Motorbike and Bicycle Academy

UNIVERSITY SPECIAL - "Best Ideas for Improving Functionality of and Enhancing Municipal Parks"

1.İzmir High Technology Institute – Redesigning the Functionality of a Neighborhood Park for "Everyone": Anadolu Ajansı 85. Yıl Park (İzmir)

2. Anadolu University – Features that a Municipal Park should have for Improved Functionality and Enhancement of the Park

3. Nişantaşı University – Sustainable Recreative Facilities
ATRAX 2018 Statistics

Number of Exhibitor: 182
Turkey: 140
International: 42
Number of countries: 21
Number of Brands Represented: 385

Number of visitors: 9124
Turkey: 6672
International: 2452

Ratio of visitors based on regions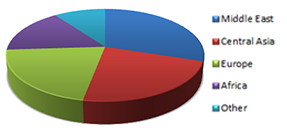 Middle East: %37
Iraq, Iran, Lebanon, Jordan, Israel, Dubai, Qatar, Bahrain, Saudi Arabia, Afghanistan, Kuwait, Yemen

Central Asia: %26
Azerbaijan, Georgia, Russia, Kazakhstan, Uzbekistan, Turkmenistan

Europe: %19
Italy, Spain, Bulgaria, Greece, Switzerland, France, Germany, Belgium, Ukraine, Bosnia and Herzegovina

Africa: %14
Algeria, Morocco, Libya, Tunisia, Egypt, South Africa, Nigeria

Other: %4
England, China, New Zelenda, Turkish Republic of Northern Cyprus, Taiwan
Ratio of visitors based on occupation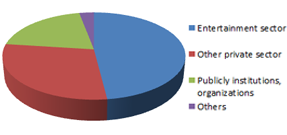 Entertainment sector: %49
Manufacturer, seller, manager, organiser company, FEC, sport center, etc
Other private sector: %25
Tourism-hotels, investors, construction, machine, shopping malls, city planner, architect investors, projects etc.
Publicly institutions, organizations: %24
Government officials, municipality
Others: %2
Undifened profession, media, academician, students, for interest, etc.
How did you benefit from fair?

Made business connections %97

It served as a good promotional tool %96

Made international connections % 72

Made agency connection %60

I made connections with participant companies %62

Others % 52
※The article is published in the GTI Magazine Issue No. 162 in March, 2018