Expo: IAAPA Attractions Expo 2017
Date: November 14-17
Venue: Orange County Convention Center, Orlando, Florida, USA
Interval: Once a year
Organizer: International Association of Amusement Parks and Attractions
Related fields: Amusement Parks, Theme Parks, Tourism Attractions, FECs, Museums, Water Parks, Resort Villages, Zoos, Aquariums and so on.
Fair Info:
Founded in 1918, IAAPA is the largest international trade association for permanently located amusement facilities and attractions and is dedicated to the preservation and prosperity of the attractions industry.
IAAPA Attractions Expo, hosted by IAAPA association, is world's top international trade show. It is an annual trade show held at Orange County Convention Center, Orlando, Florida, USA with five-day conference and four-day trade show. And it has been held for 99 years. This year's show attracted Wahlap, Unis, Golden Dragon, Sealy, G-Look, Guang Yang, NineD, Arccer, Game Plus, Cowboy, Flying, Funshare, Gold Hunter, Haimao, Steve, YERUI, Zhuanglun, Yuehua, Beijing Jiuhua, ShiLaiBao, Brogent, Beijing Water Design, Locta, XiaoFeiXia, HaiChuan Dinosaur Landscape, Hankook, Huaxia, MCube, LUCK & JINYING, LS-Game, Power, Star, LX-Game, Mich, Ocean, Movie Power, Suzhou Fwu-Long, Shanghai Yidong, Hehao, Aidisen Optoelectronic, Brother Tourist Train, Taiwan iCT, I-Cing, Liben Group, Saint-fun, Paokai and over 100 exhibitors from Asia.

During the trade show, there will be more than hundred education sessions. With more than 100 educational options and the trade show, you can establish relationships, attain new ideas, new thoughts and new points. Meanwhile, you can introduce and present your products to the professionals within this field from global and seize the chance the expand your business. Up till now, this show is the best exchange and trade platform for both exhibitors and buyers, no matter in the terms of hardware or software. Also, there are conferences for exhibitors to discuss the industrial trends of latest products.
Exhibition Scope:
All kinds of game machines: electronic games, software, remote controlled equipment and tokens.
Theme park facilities: construction materials & tools, planning & design of theme park and aquarium, vending machines.
Hi-tech amusement programme: laser, computer generated image, video, Virtual Reality equipment.
Sports facilities: indoors & outdoors field facility, sport equipment, tourism art.
Filming equipment: Special filming equipment, audio, lighting, theater equipment, 3D films.
Plush: plush toys, voice controlled toys, model cars, puzzle toys, physical toys.
Enclose the location of GTI's booth in IAAPA, [Booth number:1736]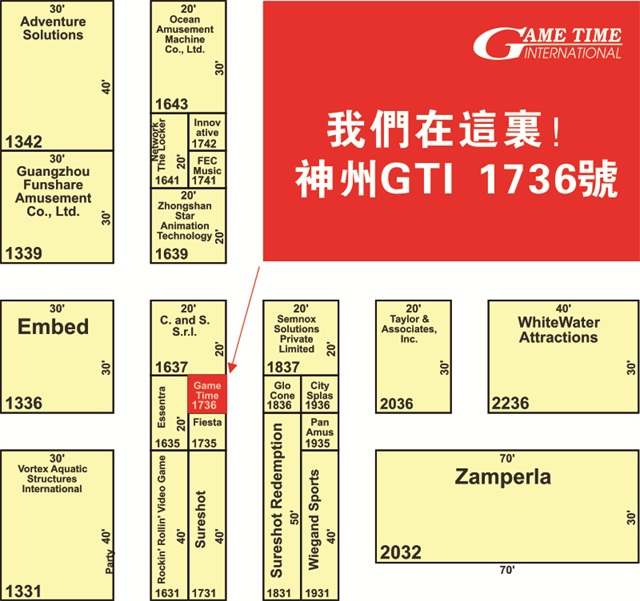 We visit various trade show in different countries with GTI Magazine, in order to make everyone to learn more about GTI Magazine. We GTI team will distribute magazines and promotion materials on GTI expos. Besides, we will collect the first hand materials for our readers to explore their markets.
Our Editor-in-chief Asu Su will be the representative of GTI to attend IAAPA 2017 with GTI Magazine, and explore the North America Market.