GTI Taipei Expo kicks off first wave of booth allocation on Dec. 1(2017/11/27)
Let's welcome the 25th anniversary of GTI Asia Taipei Expo! As the longest history and highest reputation games & amusement trade show in the Asia-Pacific region, GTI Asia Taipei Expo is slated to take place on May 10-12, 2018 at A Zone, Hall 1, Taipei World Trade Center. And the first-round registration and space booking will be launched from Dec. 1 to Dec. 31, 2017, all companies and manufacturers are warmly welcomed. Both of them can promote their self-products out of Taiwan by attending such an international trade show with brand awareness and industrial representativeness. Whilst global buyers can make further exchanges and cooperation with powerful and enthusiastic manufacturers, find their demanded products and reliable partners.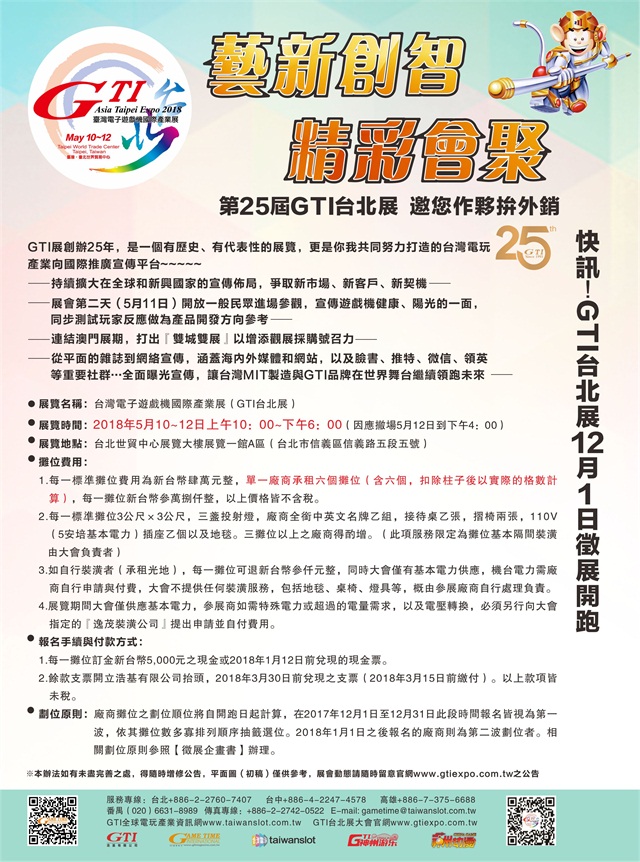 We offer the Exhibiting Scheming of GTI Taipei Expo 2018 as reference for those who are ready to attend as exhibitor. For more information, please keep update with our official website, and contact GTI Haw Ji/ Taiwan Slot Magazine via calling 886(2)27607407, Email: gametime@taiwanslot.com.tw.