On March 1-3, 2018, the 20th Anniversary International Exhibition of amusement rides, entertainment equipment and services for amusement industry RAAPA Expo 2018 will be held in Pavilion 75 at VDNH, Moscow. The exhibition is organized by the Russian Association of Amusement Parks and Attractions (RAAPA) and supported by the International Association of Amusement Parks and Attractions (IAAPA). General Sponsor of the exhibition is PAX Group of companies. General Media Partner is The Amusement Industry Catalogue magazine. Official web-partner is vtorio.com. Game Time International Magazine is also one of the International media partners of RAAPA Expo 2018. And, GTI team will invite buyers to the exhibition and distribute the latest magazine and publicity materials of GTI two expos to all the visitors.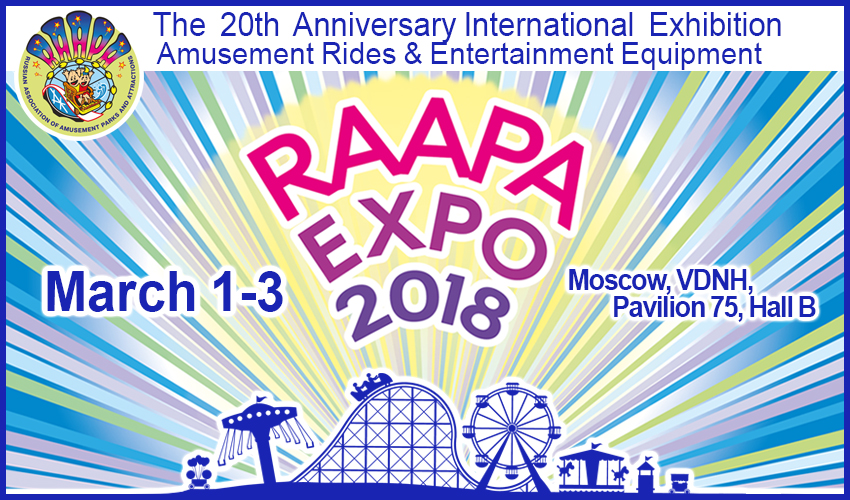 The 20th anniversary international exhibition of amusement rides and entertainment equipment.
RAAPA Expo is, for now, the biggest amusement industry exhibition in Russia, the CIS and Eastern Europe. About 200 companies from Russia and more than 20 countries of the world such as Italy, Canada, Belarus, Mexico, Turkey, Spain, Sweden, Belgium, Germany, China, Ukraine, Latvia, Switzerland, Poland, the Netherlands, and others will exhibit in Moscow. All main directions of amusement industry will be displayed at the RAAPA Expo 2018: park rides, 5D-cinemas, interactive games, simulators, arcade games, equipment for kiddie and sports grounds, shooting galleries, trampolines, theming, access control systems, automation systems, billiards, bowling, waterpark equipment, vending machines, redemption and prize machines, services on project design of parks, waterparks and FECs, staff training, services on organization of festive events, landscape design, food court services, and many others.