After an incredible week in Las Vegas, CES 2018 has come to an end (2018/01/17)
This was UNIS and Calinfer's first time participating in the world's biggest tech conference and our entry into the consumer market has proven to be an exciting one. This year's gadget extravaganza was nothing short of amazing! There was even a brief power outage during the show; possibly caused by heavy rains the day before - yes, heavy rains in the desert state! Amongst the high-tech innovations, cool toys, and gadgets, attendees were fascinated by the Atari PONG Table and Bowl Master.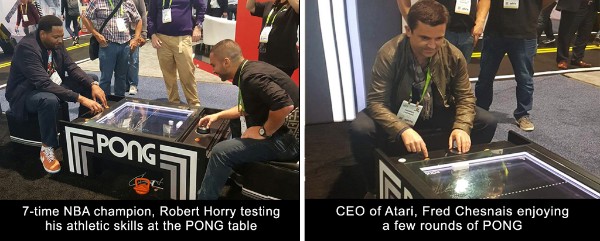 UNIS and Calinfer exhibited the Atari PONG Table and Bowl Master, attracting numerous attendees and even unexpected special guests!
The PONG table first made its appearance at IAAPA last November. The Bowl Master is our first new product launched in 2018. "The booth was constantly packed with players of all ages who wanted to give the games a try" says Debbie Gonzalez, USA sales manager. We were also pleasantly surprised to find a few unexpected special guests at the PONG tables! Riding on the heels of the success of Lane Master, Bowl Master is the home version of the video bowling game. Same great game, just lighter and more compact in size which makes it more portable and perfect for any recreational spaces. The Bowl Master allows for up to 6 players to compete and comes with high score ranking. "This is the very first time we have exhibited the Bowl Master and the response for this consumer version has been very successful!" says Debbie. Customers are most attracted to the uniqueness of the game.