FADJA, the American Gaming Trade Show, will take place on the 5th and 6th of April, again in Corferias where it will celebrate its edition No.20 in a moment described as 'historic', given the revolution of the supply and demand of the gaming industry in the country. This special momentum is produced by the regulations of new games and sports betting on the internet with which COLJUEGOS has been surprising a sector that had a stable growth rate until two years ago. The interest of many international platforms to explore the market and / or begin its certification process and finally achieve the authorization to operate in Colombia, is the engine that moves FADJA at full speed.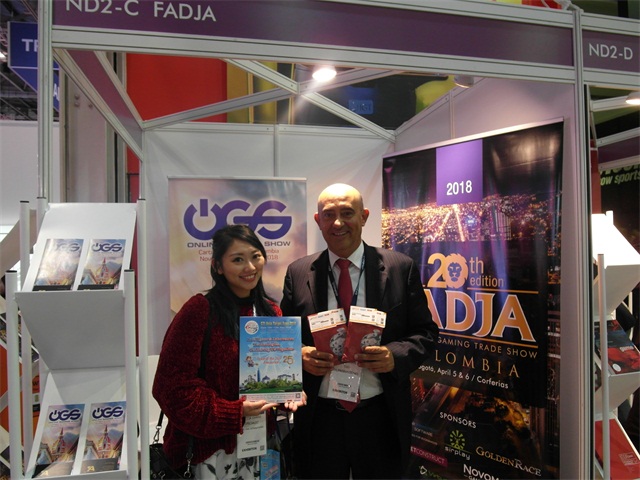 Game Time International (GTI)'s representative visited FADJA's booth in ICE.
As a result of the decision of COLJUEGOS and the National Government, which has already regulated eight platforms to operate legally in the country, and the coup de grace given to illegal gambling, the path is clear for new investments and alliances. The traditional games and casinos will also have a very important space in FADJA 2018, offering products adapted to rapidly evolving technologies, presenting very attractive novelties for the public and opening up to expand their portfolios with the arrival of online betting. FADJA will celebrate its 20th anniversary and for that reason, special activities are prepared during the two days of the fair and at the closing party on Friday, April 6th: "FADJA, Master Bet", a mixed martial arts show of first category will be performed, among other surprises, at a memorable birthday party.