During the official presentation of Gaming Online Expo (GOL) Peru at the Maria Angola Convention Center in Miraflores, Lima, where this event will be held on the 25th and 26th of September, José Aníbal Aguirre, CEO of 3A Producciones, confirmed that seven major companies have already taken the decision to participate in this trade event dedicated to the online gaming sector.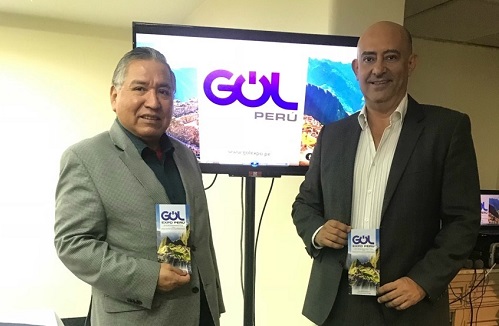 Ricki Chavez-Muñoz (L) , CEO of 3A Producciones and José Aníbal Aguirre (R), CEO of Greata Group.
"The companies already confirmed are: Betconnections, Italtronic, Dorado Bet, Virtual Soft, Espresso Games, P-Project and IES Online. We are confident that these companies are taking the step to place them at the front in the process of entry into the huge market of iGaming, sports betting and online gaming that is opening in Peru," said José Aníbal Aguirre. Attending the GOL Expo Peru press conference in Lima, was Ricki Chavez-Muñoz, CEO of Greata Group, a United Kingdom-based consortium co-organizing the event. "I think that we have a functional team for the successful development of this initiative owing to the extensive experience in the organization of events in Latin America from 3A Producciones. We shall provide an academic and Conference component to understand the key implications, challenges and risks of this new business, which will break down paradigms of traditional gaming in the country. Our companies have nearly two decades in communications and marketing in the Global gaming industry and we are confident of successfully meeting our goals," said Ricki Chavez-Muñoz.