The MGS Entertainment Show, one of the gaming industry's fastest growing trade events, has joined with the Macau SAR Government to launch an official visitor subsidy scheme for international buyers and business partners coming to this year's exhibition. As part of its program of joint activities with the Macau government, MGS has unveiled the 'Qualified Buyers' initiative to provide extensive travel and accommodation subsidies for visitors to the show which will be held at the Venetian Macao, 14-16 November 2017. With new technology and the Beijing-devised Belt and Road Project prominent on the MGS agenda this year, the QB scheme will be open to registered visitors from companies exhibiting at the government-backed expo. Financial support of up to MOP 7,000 (cUS$895) will be available to international visitors at this year's show with the grants used to subsidise travel, transport and accommodation costs for visitors to MGS from anywhere in the world.
MGS Chairman Jay Chun stated: "There is significant momentum within Macau and the Chinese marketplace to invest in building a global trading network across continents over the next decade. The Qualified Buyers incentive is one of our statements of intent to help draw the world's business community into this vision. MGS is determined to push this initiative forward and play a pivotal role in linking the substantial markets from Macau and South East Asia, all the way around the revitalised Silk Road trading route." The Macau Government's Buyer Sponsorship program is one of a number of key joint initiatives scheduled for launch at the MGS Entertainment Show over the next three years, as the exhibition rolls out its business programme in support of the SAR's drive for greater diversity in the economy, new and transforming technology, and the Belt and Road project.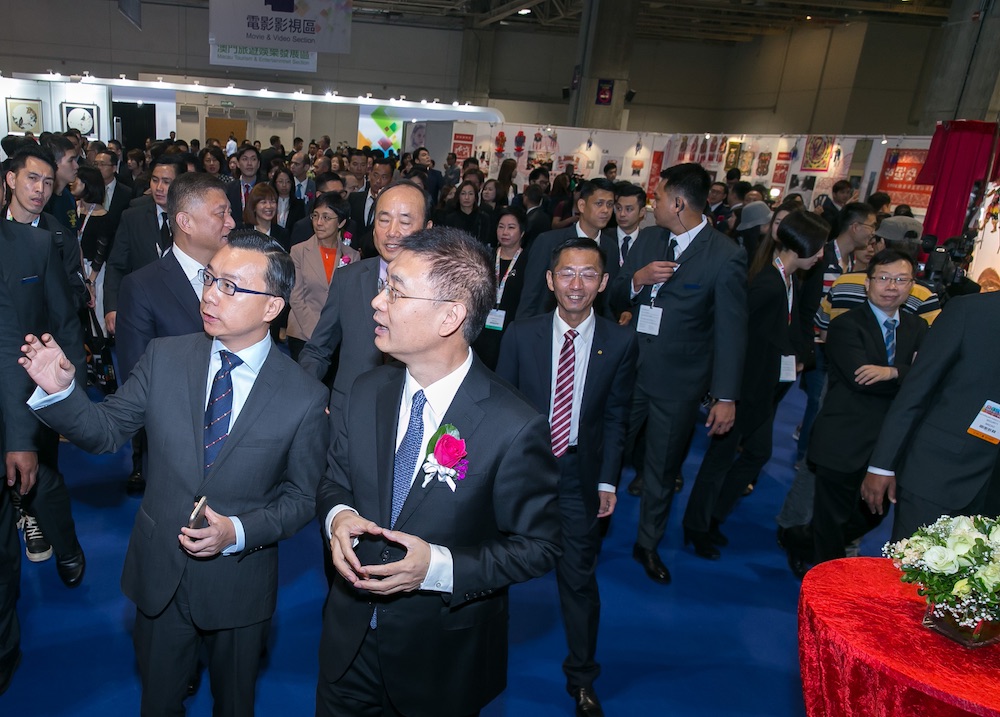 Chinese and Macau Dignitaries attending MGS Entertainment Show 2016.
Jay Chun added: "This year MGS has been reaching inside the mainland Chinese market and around Asia in a program that will deliver not just diversity across our showfloor, but also a framework to drive the process of new business starting here in Macau and throughout the Asia Pacific continent. There is total commitment, both at government level and the private enterprise level, to invest, trade and deliver new technology, new infrastructures and a sustainable business network across the globe. QB is a small step - but a giant one in terms of encouraging people from around the world to start the process and engage in what probably is one of the most exciting global business initiatives for centuries."
The Qualified Buyers scheme will be operated through a designated team at the MGS offices in Macau and is open to official buyers of any exhibitor at the 2017 show. Contributions will be available towards the costs of round trip flights, transportation services to Macau and hotel accommodation in Macau or Taipa. The maximum grants at this year's exhibition range from: up to MOP1,200 (cUS$150) per person for visitors from Hong Kong SAR and Guangdong Province; up to MOP4,000 (cUS$500) per person for visitors from other parts of Asia and up to MOP 7,000 (cUS$895) per person for visitors from outside Asia. Reimbursements are available for up to two representatives from each qualified company. Download the application form on our website and submit it by 31 July 2017 to secure your reimbursement. Full information about the Qualified Buyers Scheme is available on the MGS website: http://www.mgsentertainmentshow.com/page-61