Multi Game pioneer Amatic Industries exhibited at BEGE (2017/11/21)
Amatic Industries - the Multi Game pioneer from Austria - sent out a warm invitation to come and see them at the BEGE exhibition in Sofia, Bulgaria, on 22nd and 23rd November. Amatic was found on its local distributor stand – Casino Game Innovation – booth number # N 3.8. BEGE visitors personally experienced and knew the reason why Amatic Industries enjoys such a strong reputation in the industry. The pioneer of Multi Game offered such a great range of games that there was literally the right game for all types of players – whether fruit-based, feature-based or card-based. These land-based games are growing strongly in the international online gaming market as well - as proven land-based games are in demand on all gaming channels.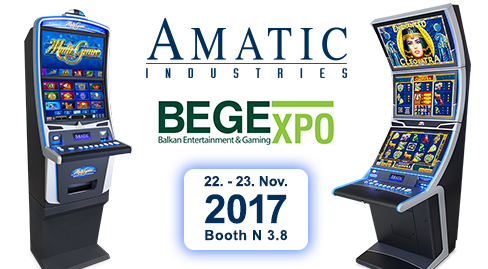 Cabinets showed at BEGE.
Amatic Industries is also very well known for its cabinet design. The slant top Performer Grand Arc (PGA) and the upright AMAROX C24 both stood out in the gaming crowd and had proven their popularity with players in Bulgaria. Both cabinet types are fitted with the new HARDROX (HX) hardware platform which convinces through its enhanced performance, stability and security. The result is a further improved and even greater game experience. Beautiful on the outside, extremely secure on the inside - that what makes the Amatic cabinets so special. Thomas Engstberger, Sales Manager at Amatic, was personally attended the BEGE show. "We appreciate the visitors who came our stand. Amatic Industries is and remains an independent gaming manufacturer with family-based tradition. We care about what we do and place great emphasis on our entire R&D, manufacturing, service and sales processes," as Mr. Engstberger points out.