Canada's Méga Parc is to undergo a major steampunk-themed makeover, with a record-breaking gravity coaster travelling through a spokeless Ferris wheel at the heart of the CA$52m(US$41m, €34.6m, ₤30.8m) plans. Built in Quebec in the 1980s, Méga Parc is the second-largest indoor theme park in Canada. Its overhaul will see the park transformed, with the majority of existing rides replaced and the park to be themed on steampunk and the industrial revolution. Designed by Extreme Engineering, the suspended Cloud Coaster will hang 60ft (18.3m) above the ground from the attraction's ceiling, combining elements of a roller coaster and a zipline with special lifts to propel passengers through uphill segments.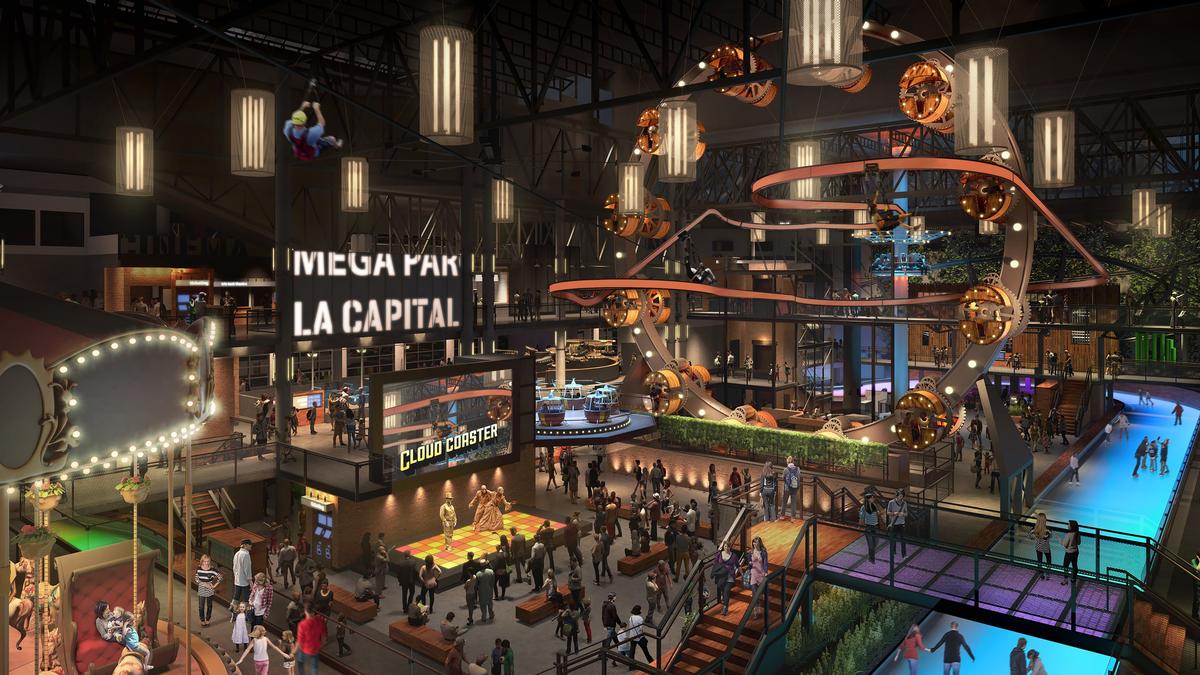 The Cloud Coaster will travel through the park's signature spokeless Ferris Wheel.
The longest of its kind in North America, the 405ft (123.4m) coaster will also offer a world-first, being the only one to go through a Ferris wheel. "With Méga Parc, we'll be on-site probably double our usual timeframe," said Matt Rehnstrom, vice president of sales for Extreme Engineering. "The whole coaster is being suspended from the ceiling which means you have to raise every piece of track into the air one after the other." The wheel itself - Méga Parc's signature attraction - offers another first for Canada, rising seven stories and having no spokes, with cabins moving on a track around the circle rather than the whole ride itself moving. The project is being developed by Oxford Properties Group, with Toronto-based architects RevelHouse handling design and concept. Méga Parc sits within Quebec's Les Galeries de la Captitale mall. A grand reopening is set for December 2018, with a projected 600,000 annual visitors each year.