Hollywood Bowl customers 'embrace Embed' following latest Bandai Namco installation (2018/02/06)
Customers at the newly refurbished Hollywood Bowl, Oxford (UK) are embracing the cashless revolution with enthusiasm following the installation of the latest Embed Cashless system which has been completed on time and on budget by Bandai Namco Services. The 50 machine venue, which features a range of equipment including video, redemption, pool, prize and sports games, underwent a seamless installation of the Embed system which was completed on November 6th.
Hollywood Bowl's Mark Francis, confirmed: "The move to cashless at the newly refurbished Hollywood Bowl Oxford is an important step in understanding more about our customers and their favourite games. The valuable insight that Embed provides, can in turn be used to increase frequency of visit through fun and engaging promotions, creating the ultimate customer experience."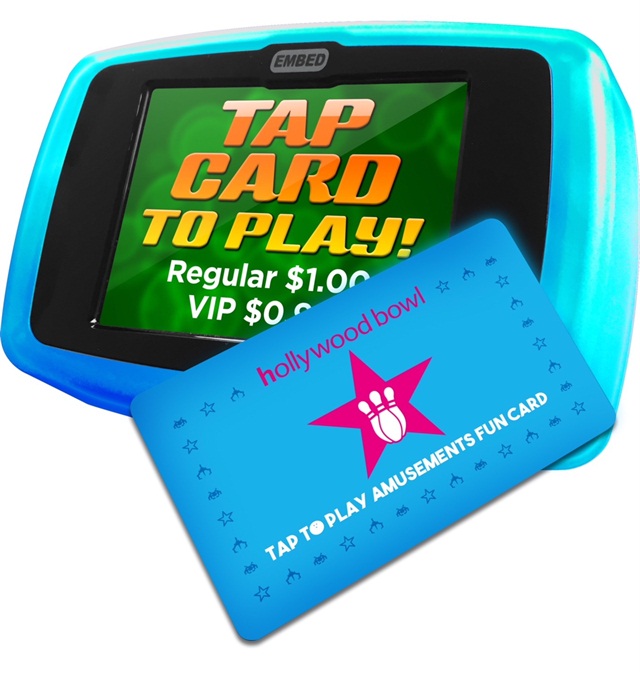 Bandai Namco's latest Embed Cashless system.
Steve Short, General Manager at Bandai Namco, Management Solutions, explained: "We are using the latest award winning (IAAPA Brass Ring award 2015) Smart Touch Tap readers which incorporates RFID technology. Players top up their cards either at the self-service kiosk or the reception desk point-of-sale and then simply tap on the machines which are fitted with the Reader.
"They still count and cut the redemption tickets in the same traditional way but once this is completed the tickets are then loaded onto the card electronically to either redeem or save for the bigger prizes. From a player experience perspective the system puts an end to the hassle of having to hold on to piles of paper receipts. From an operational view the absence of cash has reduced security issues at a stroke – in fact one of the first things the team had to do was remove over 100 padlocks and bars that had been used in order to secure the hard earned cash behind the door. Overall the introduction of the Embed system has transformed what was a traditional coin-op FEC into a much more contemporary and engaging leisure experience."
He added: "The latest data confirms the popularity and acceptance of new payment methods. In the decade since cashless contactless payments were first introduced in September 2007, the number of contactless cards in the UK has grown to a staggering 111 million. Contactless now accounts for 34% of all card transactions in the UK with the value rising from £9.27 billion in 2016 to £23.3 billion in the first half of 2017. With debit card use predicted to overtake cash by 2018, venues wanting to install the Embed Cashless system are not only pushing on an open door but if they choose not to they are in very real danger of being left behind and failing to keep up with the needs and expectations of a generation of customers accustomed to the convenience of cashless payments."