Bestson showcased Raw Thrills' latest games
Betson has a new feature on their website: an ongoing blog that digs into the most important issues, questions and success stories facing the industry today. The blog, which started publishing this summer, has several stories up right now, with the newest covering a brand-new game the distributor will be showcasing at IAAPA: Slither.io. This Raw Thrills game, which was scooped initially by Adam Pratt at Arcade Heroes, is a take on the highly popular browser and mobile game of the same name that takes the classic game Snake to wild new places. Players lead a tiny worm around a food-filled arena, and with each bit they grow larger and larger, with the biggest worm taking the win!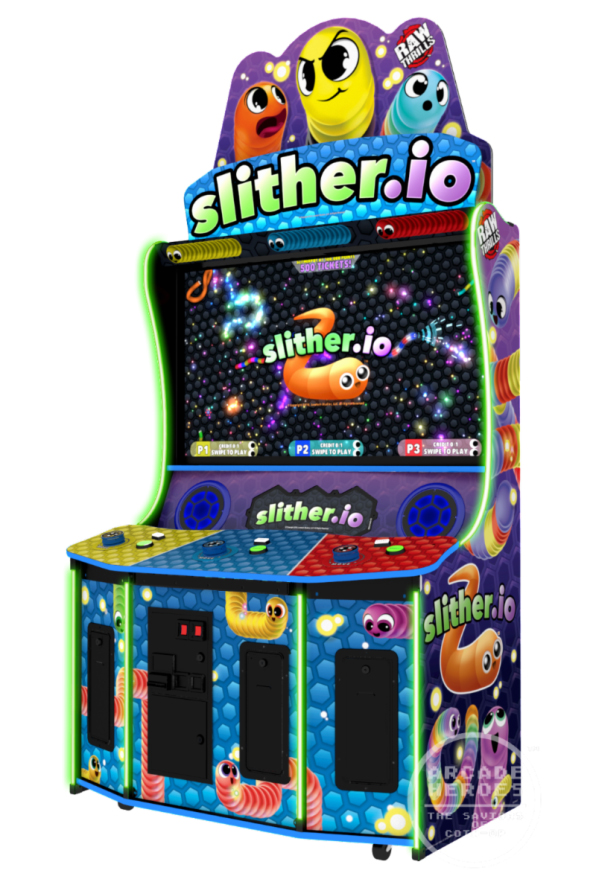 Slither.io was presented by Betson Blogs.
The game looks to be a 3-player version and comes in a re-design of the Teenage Mutant Ninja Turtles cabinet Raw Thrills used. The game is headed to IAAPA and will be one among many new pieces that will excite the assembled crowds. Other interesting bits on the Betson blog include a piece discussing the resurgence of pinballs, and they're added value that many can miss when only looking at the cashbox. Additionally, a piece by Betson VP Jon Betti, VP discusses good game room design, ensuring that every inch is utilized to its fullest. (2018/10/29)