Statement on canceling GTI Asia Taipei Expo 2020
Many countries around the world have adopted strict prevention and control measures as well as immigration management to face the outbreak of COVID-19 which is spreading globally, resulting in the cancellation of many international flights. So many overseas buyers have trouble in cross-border procurement and many international exhibitions have also been postponed due to the epidemic, generating the phenomenon that lots of similar exhibitions will be held in the second half of the year.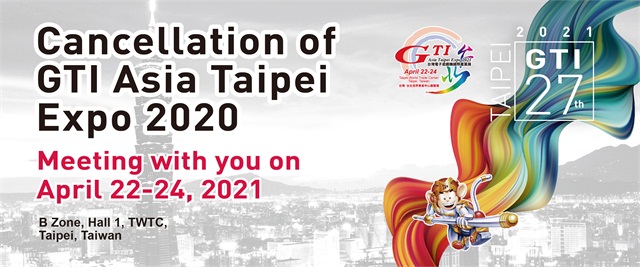 To guarantee the benefits of both exhibitors and buyers as well as protecting their safety, Taiwan Amusement Machine Association (TAMA), Taiwan Digital Entertainment Association (TDEA) and GTI/Haw Ji Co., Ltd. have decided to cancel the GTI Asia Taipei Expo 2020 that should be held on April 16-18 through mutual consultation and cautious assessment. We will meet with our customers at home and abroad for the 27th GTI Asia Taipei Expo 2021 on April 22-24. More information please contact gametime@taiwanslot.com.tw.